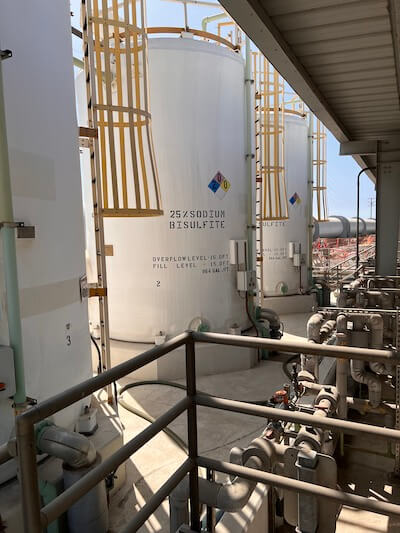 Services Include Demolition, Design, Structural Rehabilitation, and New Electrical Upgrades
Background
Orange County Sanitation District's (OC SAN) Treatment Plant No. 2, located in Huntington Beach, is equipped with a Sodium Bisulfite Station and Anionic Polymer Station.
The Sodium Bisulfite Station (SBS) has only been utilized a few times since 2015, either during maintenance of the 120-inch diameter outfall line or extreme high flow events. As a result of the infrequent usage of the SBS, OC SAN has determined that the existing chemical feed system, including chemical feed pumps, storage tanks, and piping are oversized for current demand.
In addition, OC SAN has experienced difficulties with outdated and unreliable electrical and instrumentation (E&I) equipment at the Anionic Polymer Feed Pump Facility. Electrical and instrumentation equipment upgrades are critical for ensuring a consistent quality of coagulant which in turn assists in the removal of settleable solids in the primary basins as part of the chemically enhanced primary treatment (CEPT).
OC SAN intends to demolish the obsolete equipment for new mechanical and electrical equipment installations at the Sodium Bisulfite Station and Anionic Polymer Feed Pump Facility.
Scope of Work
LEE + RO's work involves structural rehabilitation consisting of concrete foundation repair and canopy replacement at the Sodium Bisulfite Station (SBS), as well as a seismic assessment and retrofitting of the Anionic Polymer Feed Pump Facility structure.
Sodium Bisulfite Station
Engineering services include demolition of existing storage tanks, chemical feed pumps, piping, power panels, flow meters, tank level sensors, and emergency shower/eyewash stations. Designs for construction of the new SBS dosing system include FRP chemical storage tanks, chemical feed pumps, electrical panels, sensors, connected chemical piping, valves, area lighting, and electrical and instrumentation upgrades. LEE + RO will also develop a practical, cost-effective system to convey and inject Sodium Bisulfite.
Anionic Polymer Feed Pump Facility
Engineering services include the demolition and replacement of existing electrical and instrumentation assets, which were built in 1986 as part of Project P2-36. These assets include controllers, flow meters/transmitters, motor running time meter tubs, valves, and actuators at the polymer mix tank inlet and drain outlet.
Temporary Facility
To ensure that this critical facility remains operational until OC SAN can rehabilitate the entire facility as part of future project P2-133 B/C-Side Primary Sedimentation Basins Rehabilitation at Plant No. 2, which is set to begin in 2029, LEE + RO will develop a temporary facility and specify necessary construction sequencing.
LEE + RO's design services include all components necessary for complete and operational sodium bisulfite and anionic polymer management systems. One set of plans and specifications will be prepared to include both chemical facilities, which will be bid together as one project.