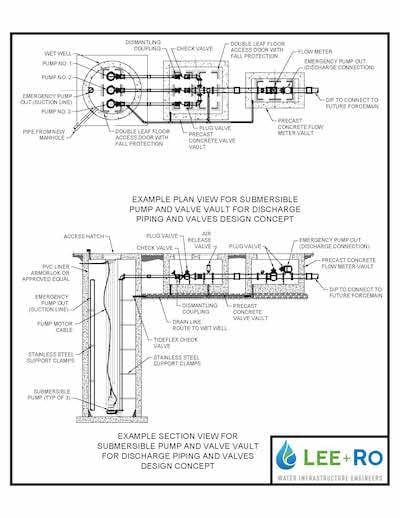 Center Street Lift Station to Replace Cadena Creek Lift Station
The City of Colton (City) has contracted LEE + RO to design a new 2.2 MGD capacity sewer lift station at Center Street. The new lift station will replace the existing Cadena Creek Lift Station, which was built in the 1970s and lacks adequate capacity to accommodate future flow projections from Roquet Ranch, the southeast area of the City, a portion of the City of Grand Terrace, and future development sewer services on the southwest end area of the City.
LEE + RO's design and engineering services include lift station building design, new wet well design, electrical and instrumentation controls design, emergency generator sizing and design, design of the motor control centers and pump station-related piping, valves, instrumentation, communication, and SCADA systems.
LEE + RO will provide an analysis of the force main along Center Street, which carries wastewater flows to the City's WWTP, to document all existing conditions and constraints. The force main's size, length, discharge elevation, and pressure rating directly impact the system's capabilities and pumping capacity.
LEE + RO will evaluate and present alternatives for either underground submersible (wet-well) pumps or aboveground (dry-well) pumps.
The Project execution will be completed over three months and includes:
Review, inventory, and study available facility and collection system information, including as-builts, operational records, and City standards and policies.
Conduct field survey and utility locating.
Conduct a geotechnical investigation.
Prepare a pothole plan and submit it to the City for approval. Conduct pothole exploration.
Provide site design and equipment recommendations, including alternatives.
Prepare Preliminary Design Report (Draft and Final).
Prepare preliminary 50% Plans and cost estimate based on the City selected alternative.
Assist the City with identifying the required permits, applying for and obtaining the permits prior to construction. Identified permits at this stage include, but are not limited to SCAQMD Permit; MARB Encroachment Permit, MARB Construction Permit; NPDES Construction Permit; etc.
Prepare Bid Documents (plans, specifications, and cost estimate), contract, bid form, construction logistics, permits, and schedule requirements.
Bid project and conduct pre-bid meeting.
Answer bidder questions and issue clarifications as required.
Conduct pre-construction meeting and construction administration duties.
Prepare as-built record drawings and O&M Manual.