Results
This project is an excellent example of great teamwork.
Everyone came together to overcome all the major obstacles while working around the recent pandemic. The new UV system was installed and brought online within the client's expected schedule. Although there were minimal disruptions, the implementation of an agreed-upon set of protocols and the use of modern communication platforms – Facetime, Zoom, MS Teams, etc. kept all the stakeholders informed of status and progress.
The selection of a state-of-the-art UV technology for reclaimed water disinfection using the most energy-efficient technology available on the market was the critical part of the project. The new UV system meets the 100 mJ/cm2 MS2 Title 22 State requirements for UV dose and was installed by modifying the existing UV channel. The existing channel was provided with a new motorized weir gate that allowed the system to meet the optimum hydraulic grade lines.
The new system helps the City comply with Title 22 permit requirements in a more efficient manner by providing better dosage monitoring, a more reliable and maintenance-friendly design, faster response to flow changes, and reduction in algae growth.
Award-winning Project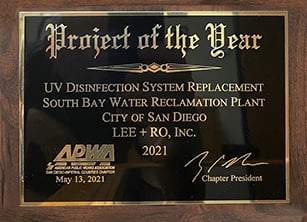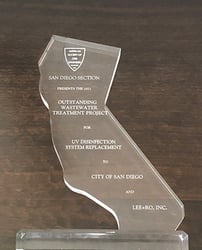 APWA – SD/Imperial Counties Chapter: 2021 Project of the Year
ASCE - SD Section: 2021 Outstanding Wastewater Treatment Project